Luggage of Modern Time for Suitcase Manufacturer


Since the creation of mankind, man has traveled from one place to another for different purposes. And while doing so, he has carried with himself food and supplies to aid him in his journey. The medium of carrying supplies has evolved over time. From wood boxes pulled by animals to lightweight, colorful trolley bags.
In today's time, travel has increased drastically. Be it for an important job meeting or a family vacation there is no doubt that people love to travel. One of the most important items on a trip is your suitcase because it contains all your belongings and supplies that you will need. Your suitcase takes all the stress and strain throughout the journey. It is dragged across the roads and thrown from one place to another by airline staff. A low lifespan and low
Travelling can be very exhausting for some people even with the availability of so many facilities and advanced technology. Amongst these facilities are your suitcases which hold all your goods and supplies and make traveling easy. Nowadays, there is a wide variety of suitcases to choose from as suitcase manufacturers are constantly innovating new and improved suitcases that have features adapted to today's travel requirements. The job of a suitcase manufacturer is to construct suitcases that assist people on their journey.
What makes a good suitcase?
It should be Lightweight
A suitcase manufacturer makes sure that the luggage is lightweight because during a journey there are multiple moments where the person has to lift the luggage instead of strolling it. Such as at the security check at the airport. A heavy body suitcase is difficult to pick up and not preferred by people.
A heavy body suitcase also inhibits you from keeping more supplies and goods as most airlines have weight restrictions. Which means you'll have to leave behind some important things.
Strong resistant body
Luggage are of two type, soft body, and hard shell.
Hardshell
When it comes to building the body of a hard shell suitcase, there are multiple materials that a suitcase manufacturer can choose from, such as polycarbonate, aluminum, ABS (acrylonitrile-butadiene-styrene) and polypropylene. These are amongst the hardest and toughest materials, and each material has its own advantages and disadvantages. The aluminum is at the top of the list followed by polycarbonate, polypropylene, and ABS in terms of durability and also cost. The latter being a disadvantage of aluminum.
Hardshell luggage provides protection for fragile items such as iPads, laptops, and glassware better than soft body luggage. Also, they are easier to clean in case cleaning is required. They are mostly water resistant which means you can use them in rain and snow.
Whereas the soft body bags absorb water and may produce a foul smell if left wet for long. They are also more vulnerable to stains. Hard body bags provide maximum space for packing as the outer shell is thin and the interior does not have fabric folded and lined.
Soft body
However soft body suitcases are also in demand in the market, and while constructing them, a suitcase manufacturer has to look towards materials such as Ballistic nylon, Cordura and Polyester which enhance the suitcase's durability and makes it abrasion resistant. Protecting it from cuts and scuffs. Soft bags are easy to squeeze into small compartments and are more widespread than hard-shell suitcases. They are better shock absorbers compared to hard body luggage and take up less space when opened. Because they don't have to be opened all the way. This allows you to avoid unpacking on short stays. Soft body bags are also more organized and equipped with additional pockets both outside and inside. This makes it easy for you to travel as you can keep your passport and ticket in the external pocket.
Brightly colored
Brightly colored suitcases are not only appealing to look at but also helps you spot your luggage on the luggage line. It makes your suitcase easily differentiable which saves your time.
One of the greatest innovations of suitcase manufacturers is the four-wheel spinners. They allow you to push the suitcase in any direction. They are easy to manage and require less effort. 2 wheel suitcases can easily tip over if the weight is not distributed properly. But that's no longer a problem with 4 wheel cases. They truly make your journey easier.
Adequate size
Size is an important factor that a suitcase manufacturer has to keep in mind when constructing suitcases. Many airlines have restrictions on the size of the luggage. And different airlines have different size standards. Which means you should search and know the policies of your airline in order to avoid complications at the airport such as having to leave behind a suitcase or paying extra money. A luggage of size 45 inches-62 inches is preferred.
Accessibility
Suitcase manufacturers also have to consider the accessibility of the luggage as it makes the suitcase more attractive to people and they are inclined towards purchasing it. Lots of pockets both inside and outside the suitcase can be very helpful during traveling and keeps all the items organized within a suitcase. You can keep things such as tickets, passports and your favorite book in the front pocket and access them whenever required. Parents can keep items such as toys and diapers, and additional clothes in order to avoid carrying with themselves a diaper bag. A waterproof plastic bottle pocket can hold shampoo bottles and other objects containing liquid.
How Are Suitcases Made?
Millions of suitcases are produced every day all over the world at the company's suitcase factory. Even with all the advancements in technology and the creation of automatic machines, the production of suitcases at the company's suitcase factory is a slow process, as it requires manual work.
The major portion of work is done by automatic machines no doubt, but the assembling is carried out manually by the employees at the suitcase factory. In order to produce perfect and durable luggage so you can enjoy your journey and leave the worry of your belongings to the suitcase.
Trolley Bag Suppliers and Their Importance
A good relationship with the trolley bag suppliers is fundamental for the smooth functioning of the business. Trolley bag suppliers provide the business with raw materials the company needs to manage the business.
If a trolley bag supplier provides low-quality items, it can damage the firm's reputation. As the business may get poor reviews from customers due to the low-quality products. Also if the trolley bag suppliers provide slow service, it may reduce the companies output. A good and efficient trolley bag supplier can give many benefits and help the suitcase business excel.
Which Brand Is The Largest Suitcase Manufacturer?
Due to advancements in technology, traveling has become easier than ever. There is a wide variety of transportation options available such as a bus, car, airplanes, trains, and ships. There is a constant inflow and outflow of people at not just airports but also train stations and bus stations. Every day, the airports are busier than before with multiple flights coming and going every hour each carrying hundreds of passengers. From these statistics, we can analyze the increase in traveling. And the need for suitcases because every passenger takes along at least one suitcase.
The competition in this field is immense as there are multiple brands offering advanced and brilliant suitcases adapted to meet your travel requirements. The output of suitcases is immense which means that one company can't be taking the burden. However, the output of different companies do differ. Some producing more suitcases per day then the other. So which brand is the largest suitcase manufacturer? There are different rankings when it comes to who the largest suitcase manufacturer is.
The statistics
Here we have ranked who the largest suitcase manufacturer is according to the market share of each brand in 2015. The following ranking holds: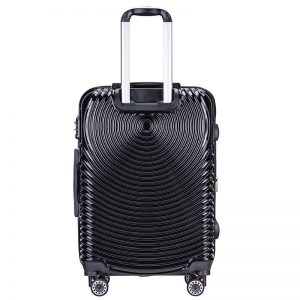 Samsonite International SA-17.3%
LVMH Moët Hennessy Louis Vuitton SA-5%
Delsey SA-2%
Rimowa GmbH-1.8%
VF Corp-1.3%
Tumi Holdings Inc-1.3%
VIP Industries Ltd-1.2%
Kering SA-1%
Hermès International SCA-0.9%
Shanghai Taifeng Cases Co Ltd-0.6%
Suitcase Manufacturer Brand Logos and Their Importance
In the world of suitcase brands, different suitcase manufacturer brand logos can be found — each unique in their own way. A logo is the face of the company and one of the first things that a customer sees. We all know how important the first impression is when we meet people. Same is the case for companies.
Unique suitcase manufacturer brand logos leave a lasting impression on their customers. The logo of the suitcase company represents their values, beliefs, and traits which plays an important role in marketing and helps them create an identity in the world full of competition and suitcase manufacturer logos.
Suitcase manufacturer brand logos are designed to convey their message to the customers in order to attract them and build loyal relationships between the suitcase manufacturer and customers. The Suitcase manufacturer logos help manufacturers get recognition for their companies' products and services and help excel the brands recall value. This means that a customer can instantly identify their brand upon seeing their logo. The luggage industry is filled with competitors, and unique suitcase manufacturer logos are a necessity for the survival of the company.
Finally!
Our company is committed to providing products that have the features that will help you on your journey. They are developed and designed to meet the requirements of traveling in order to ensure you have a stress free journey.
Our products are of reasonable price with high quality because we know that a good quality suitcase is an investment in yourself.  Moreover, we make sure that our products are delivered on time with minimum delay. So that our customers can put their trust in us and rely on our service.